TICKETS GO ONSALE SEPTEMBER 14 AT 10 AM
Get ready for another out-of-this-world, HILARIOUS line up at The "OMG! It's Only Wednesday?" Comedy Show at the Hukelau on September 13!  Featuring Emma Willmann (HEADLINER), Kareem Green (FEATURE) and Linda Oh (OPENER).  You may even see some surprise guests!  Jess Miller hosts.
First 100 Tickets are FREE* Tickets go online the day after the last show at 10 am!
A $3 service fee per ticket will be charged at the box office.  You MUST call and confirm your seats or your seats are NOT guaranteed.
$5 Early Bird Special – ONE WEEK ONLY – ends October 11, 2017 at 9 pm or while supplies last.
$7.50 Buy One Get One Free (off general admission)
$15 General Admission – Charged at the door!
All sales are final.  No exchanges or refunds.
Doors open at 6 pm | Show starts at 7:30 | Tickets: $15 Gen Admission
Military & Veterans are FREE with Gov't ID. If you're celebrating a birthday during the month of the show, you get in free!  Please contact Jess to reserve seats.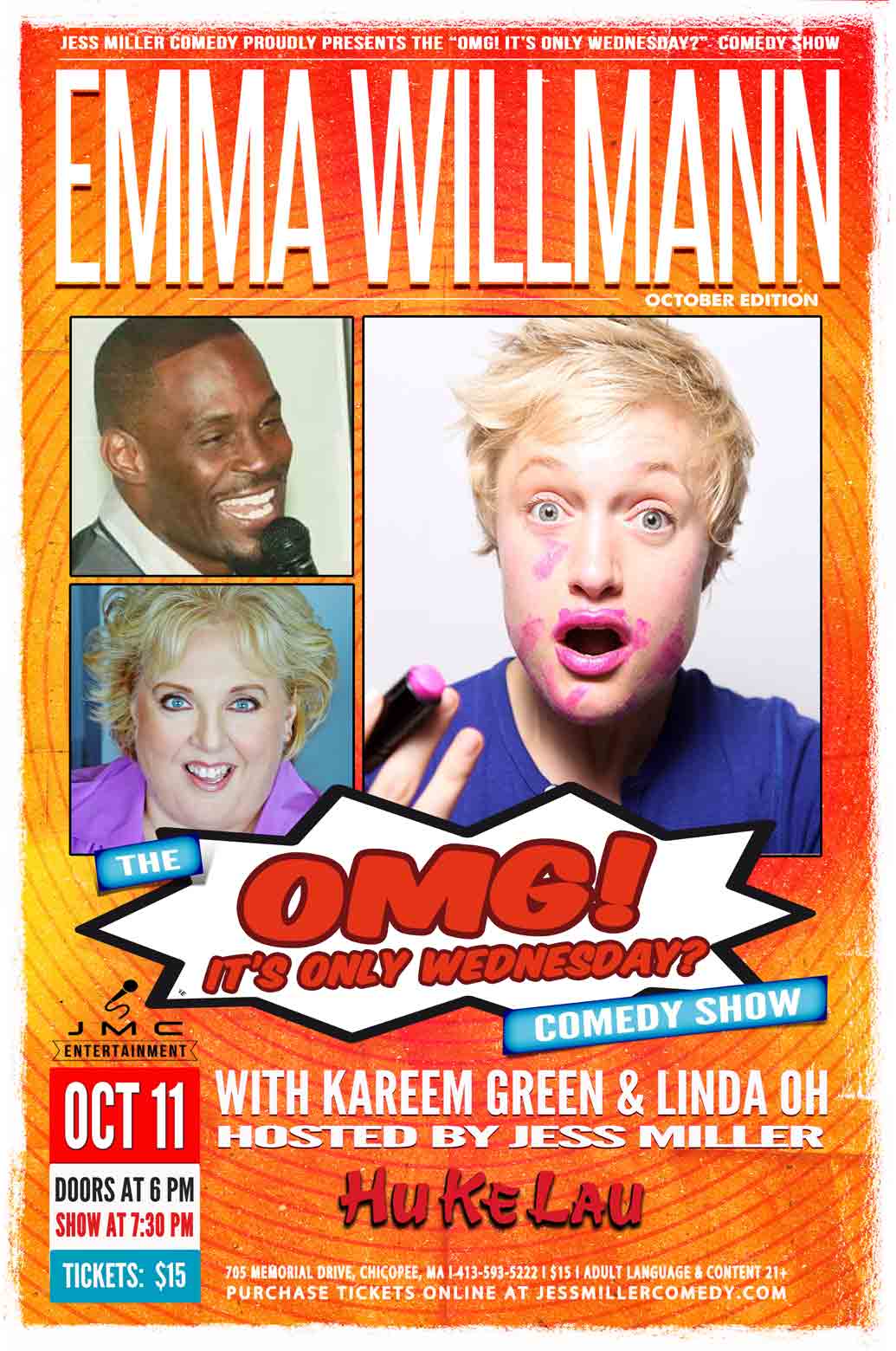 ABOUT THE COMICS:
Emma Willmann:
Emma Willmann is one of the New York scene's fast risers. Her credits are excellent despite that she's fairly new in comic years. In the past two years alone, she was featured in Just for Laughs New Faces, on the cover of Time Out New York as one of 10 Funniest Women in New York featured in Elle Magazine, passed at the NY Comedy Cellar, and all the other top clubs in NYC, featured in 8 NACAS, headlined her own sold out show in The New York Comedy Festival, performed at The Bridgetown Comedy Festival, appeared in a commercial for Dear Kate Underwear, and became a regular on SiriusXM Raw Dog, landing her own monthly show and becoming a regular guest host on the popular SiriusXM Stars AM show Wake Up with Taylor! she also appeared on FuseTV and made her late night debut The Late Show with Stephen Colbert.
Emma actively studies on camera acting, script writing, and teleprompter training in NYC and LA.
Linda Oh:
Linda Oh! has been bringing her unique brand of stand-up comedy to televison, niteclubs, comedy clubs and corporate events across the United States and Canada to unanimous accaim.
Called, "delightful", "genuine", "fresh" and "fabulously funny", her sincere delivery comes from the heart and tells you exactly who she is (a really smart, really funny woman who works harder than anyone to ensure the audience has a great time).
Artie Rob: Added to the show.
——
Line up subject to change without notice.
GOT A FREE TICKET?: All FREE tickets will be charged a $3 service fee at the box office. You MUST call the Hukelau at 413-593-5222 and confirm your tickets.  Seats are NOT guaranteed until you call and confirm.